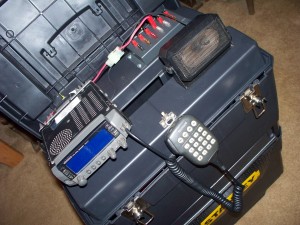 I was tasked with figuring out a better way to operate a portable Amateur Radio station for a local Club. The normal mission assignment for this station would be as a net control station or a shelter station. It was decided that the station would need to be very easy to operate and set up, and it should be able to be operated for a significant length of time without commercial power. It was also determined that the station would only need FM voice on VHF (2 meters) and UHF (70 centimetres).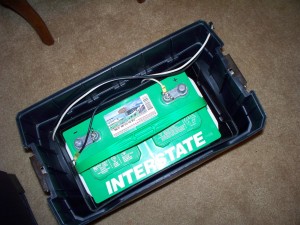 With these requirements in mind, I selected a Kenwood TM-V7A mobile rig for the radio, and then calculated the amp-hour requirements for a thirty percent duty cycle. This gave me a required battery size of about one-hundred amp-hours to have the station operate for about twenty-four hours. Most of the time, I'd expect this station to operate with a ten percent duty cycle and lower power settings and run for more than fifty hours.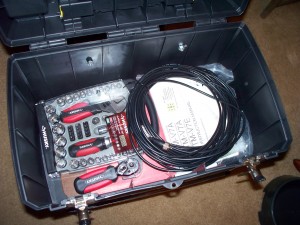 To make the station easy to deploy I purchased a rolling toolbox. I dropped the battery in the bottom of the toolbox then I mounted the radio on the underneath of the tool caddy. I wired the two halves of the toolbox with disconnects so the box could be split for easier transport. The Antenna is a lightweight VHF/UHF ground plane and is fed with fifty feet of RG-58. The mast is a twenty foot painter's pole that is set into a large patio umbrella stand. In the toolbox went a few other items, like the radio's manual and some ICS-213 forms and ARRL Radiogram pads. The whole station can go from disassembled in a vehicle's trunk to on the air in under ten minutes.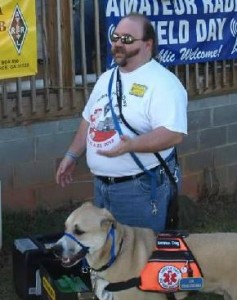 The station has been on the air several times and has preformed flawlessly. The set-up gained quite a bit of local interest and I was asked to teach a class on how this was built for a gathering of local Amateur Radio clubs. In addition to a show and tell, I produced a simple hand-out on how this station works and the inventory list.  There are a number of ways to expand on the basic setup, adding banners, chairs, and tents or sun shades, make the little portable station quite cosy. W4IDO_BosBox_Buildout
Here is the class handout : W4IDO_BosBox_Buildout