As everything started winding down at years end and I took some time to clear out some of the leftover clutter around the office, I started thinking about the organizational tools I used over the past year and see if there was anything I could do to better.
First thing to examine is the hardware I use. Is there anything here that needs upgrading? Is there anything that just is wasting the power connection and desk space – if so it needs to go.
The desk itself is actually a dining room table we picked up at a local thrift store, this worked great (and at a tenth the cost!!) to make a partner's desk for the wife and I to share.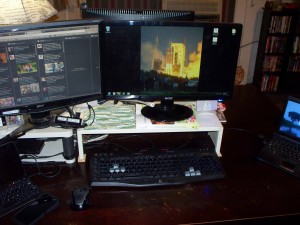 Here's my current desk setup. The main computer normally has two monitors, and when it's needed I can swap in a third. I find myself wanting to add that third monitor as a permanent resident, so that might be one upgrade to do this year.  I mostly use Windows 7 here, but I also run Oracle Virtualbox so I can easily work in other versions of Windows, Linux, Android and Chromium environments during application testing or user support. The green and white thing is a homemade knitted cradle my wife made for my smartphone to sit while charging.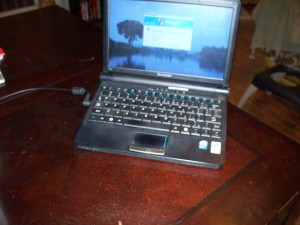 On my right is a older netbook whose main purpose in life is to run Skype so I can conference into the Corporate office. Admittedly, it was a little odd to have a camera staring at you all day long at first, but I've gotten used to it. I really want to get away from this netbook, mostly due to the age of the operating system, but it works so that's more a want than a need.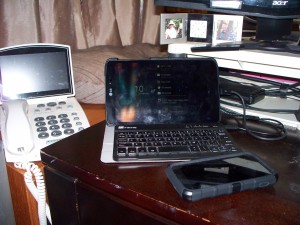 To my left is an LG G-Pad with a bluetooth keyboard, I use this for corporate email, social media and the occasional time waster err I mean, mental break. Also pictured is my Nexus 4 smartphone, yeah it might now be listed as obsolete, but it does everything I need it to do for right now. From both the G-Pad and the Nexus I can vpn into the corporate servers, unlock users, change passwords, even poke the SQL servers, absolutely required equipment for those middle of the night (or even while standing in the middle of the grocery store) IT calls. The last piece of equipment on the left is my caption phone, you talk-I read, I talk-you listen, it's great – now I can take those helpdesk calls in the middle of the night without having to grab my hearing devices.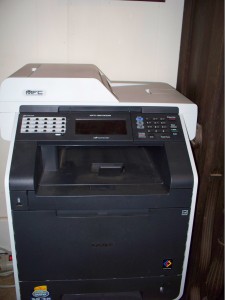 On the document control side of things I have a fax/scan/printer, a Brother MFC-9970CDW. It's a great printer, one of the first (of too many) I've had that can handle large volumes of duplex printing without giving me heartburn. I use the scanner to scan all incoming letters and bills to my server and then shred the paper version. This lets me store bills, receipts and statements in one place (which makes tax time so much easier!) without the cost/square foot of having a bunch of filing cabinets and the hassle of shredding a years worth of paper every January.
So there is most of the hardware around the desk, of course there are three other computers in the network, two wireless access points and other assorted geeky tools to keep everything connected. All in all there's not much here that needs upgrading or replacing so I think we're in a good place for the start of the year.
~Geof "I need to dust this place" Franklin