One of the simplest things you can do for business continuity is to write down all of those procedures you do to operate your business. It can be difficult to conceptualize what to put in a book like this so to help the process I encourage my clients to think along the lines of, "How could my employees operate if I were hit by a bus." Graphic, yes but it gets the point across. It's why we call it an "Oh Sh*t Book" ("OSB" for short), What is it you'd say when something went wrong? Yup – most of us say something like that, so we look in the book with the same name for the answer. Simple, yes? In reality it's more about the concept that this is the place where all of the procedures are stored so when the worst happens, you get hit by a bus.. or your business is hit with a disaster.., your employees know how to return the business to it's predisaster state.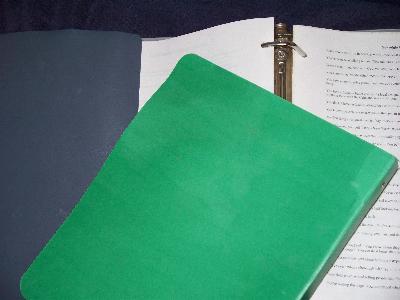 So what goes in your "OSB"?
Just about everything. This is where you store employee contact (home addresses and phone numbers) and emergency records (like allergies), you will want fire and evacuation plans including who to call and the address of your building, you will need a section on building vendors (plumbers, power company, water company), and information about utility cut-offs. In the standard operations portion, you will want information about how daily procedures are done, like how to run the billing program or directions to contact the accountant, you might need standard procedures for different departments, like the workflow for the shop or how you add a user on the e-mail server, even information about how to set the time on the phone system. The point here is to create a single simple reference for the workings of the company.
For clients who are concerned with the security ramifications of loosing their OSB – or allowing all of their employees access to this kind of highly confidential information – you simply need to limit the access of the book to your trusted level of empolyees – managers, supervisors.. you can also limit it by functional area – the Shop floor doesn't need access to the Financial Department's OSB, right?
Lastly, and I think most importantly, you need review and update your OSB at least every six months. I like my OSBs to expire after one year with a review and update at the six month mark, I also put all of the committee's names on that same page with signatures under the dates. It shows ownership of the book and interest in the process, which helps you develop a better Oh Sh*t Book.
~Geof "Is that a bus?" Franklin