Some of the hooks I've made in the forge.
A retired Master Blacksmith showed this handy hook to me. This nifty device hugs your tent pole (or other 1-3 inch pole) and provides space for anything you need to hang up. We've used it to hang lanterns, cloaks, coils of rope, even a bow and arrow once.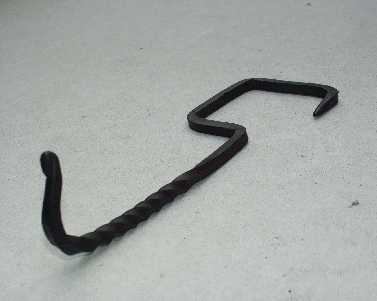 That's awesome, but our bender tent  doesn't have side walls that would support that hook, so I made a single hanging hook for the ridgepole. Worked perfectly holding our lantern.
So that worked for the lantern, but we both wear cloaks – so we needed something more. This hook hangs over the ridgepole and provides two hooks for anything we need to hang up.
So around the forge I also need to hang stuff up. Here is a rat-tail hook, it works like a nail, just hammer it into a wooden joist and we can hang everything from small tools to jackets to leather aprons.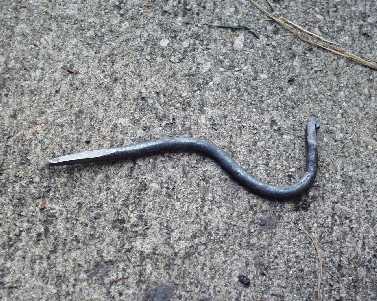 Sometimes you need to something heavy. I make these T drive hooks to fill that need. You simply hammer the top nail section into a post until the lower portion is flush with the post. I've made these to hold up everything from huge curtains to saddles and harnesses. This is also the project I usually use when teaching new blacksmiths.

Last but not least, an S-hook. I once made a pair of these while in the middle of a demo for a neighboring vendor who left the hooks for her sign at home. S-hook, and drive hook at the same time while talking about blacksmithing to a crowd of about eighty onlookers.